Well, there would be more notes, except that, at this moment, trying to load any character reliably crashes the client.
Ok, now onto the stuff you already know:
A lot of the Cataclysm features will be unleashed in the 4.0 patch, currently on the test realms (data is being downloaded, but it goes live when???) This includes a complete overhaul of the talent system. (This also means that those of us with build guides had better get to work.)
I was able to hit the character screen in the beta, where I saw this:
The top icon is to "Customize your character"
The second is to change faction
The third, by Ramzen, is to change race.
Dunno why the Hunter has no icon. Discrimination against Blood Elves?
It looked like this after I logged back in: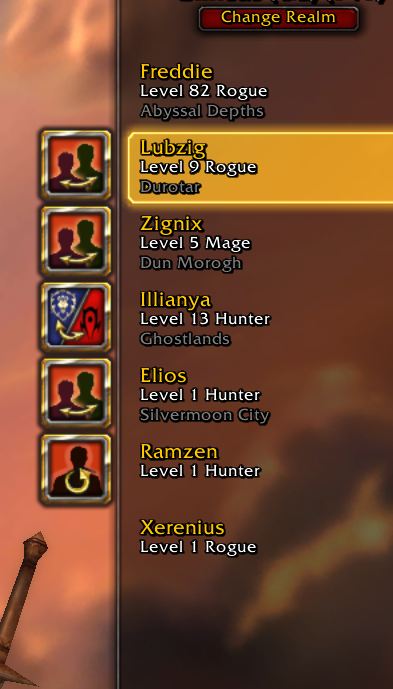 I guess the belf discrimination was just a rumor. So maybe this is something that's being played with, at the moment? I'll see what I can find…
(By the way, there's a Beta FAQ here – it mentions a fix for logging into the beta, but it didn't work for me. )
Ok, the log-in issue is fixed, but you have to delete a cache folder.
Go to your WoW Beta Folder > data and delete the cache folder.
This seems to work for most people.
Here's another fix
Delete Cache folder in WoWBeta/Data/
Delete config.WTF
Use the WoW.EXE file with the green T in your wow beta folder.
Ok, found the button thing. It's a test of their paid change system, though these changes are free. But, most of you already knew that. These buttons will not be on the live game, unless you've paid.
In the latest build players will notice paid character services buttons appear next to characters at random on the Character Selection screen. These are the buttons you would normally see after purchasing any service, such as race, realm, or faction changes, or character customization. If a character service button shows up next to one of your characters, you can click it to make use of a free race change or character customization (faction change coming soon). You can make use of these buttons as often as you like, but the services for which you're selected are randomly chosen for you and will update every hour. So, say if you don't want to change your race but would like to customize your appearance on a specific character, you will need to wait for the right button to appear.

Please note that these buttons are only for beta testing purposes and are not intended to be released for free on live realms. We want beta testers to stress test our paid services so we can ensure they are operating smoothly when World of Warcraft: Cataclysm is released.
Edit:
Gotta love that right hand dagger. 🙂  Now really, isn't that something that should be a low level dagger in the Goblin or Orc area?